Berkeley Lab IT's Software Licensing coordinates site licenses and volume purchases of specialized software to provide discounted pricing. Volume licenses are negotiated either independently within IT or in coordination with other UC campuses.
Software Download Site
Berkeley Lab IT provides access to the most commonly used software at the Lab for purchase and download at software.lbl.gov. To access you will need LDAP Credentials a Lab Project/Activity; DOE serial number of computer or serial # used to identify the machine as well as an identified Approver. Each software is purchased individually.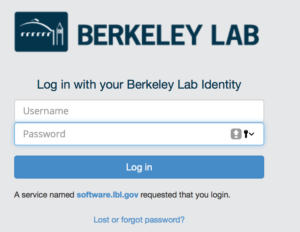 License Types
Free, Open-source
Many popular applications are open-source. While many of these products are available through software.lbl.gov, some downloads are just links to the product pages.
Some open-source licenses may not be completely free and may be restricted from use in commercial settings. Always review the license terms before installing an app that is not downloaded from software.lbl.gov.
Site Licenses
Berkeley Lab IT provides many essential tools free-of-charge to the Lab community. This includes critical security products like anti-virus and anti-malware, IT management tools like BigFix.
Subscription
Each user's license is only valid for a fixed period of time, after which it must be renewed in order to continue using the product. These licenses typically include all upgrades during the license term. Typically all the subscriptions of a specific license expire on the same date and new users may not get a full term of use before being charged for renewal. Here is a listing of current subscription license offerings available software.lbl.gov.
Perpetual
Indefinite use of a specific version of a given software product. Upgrades are available if maintenance is purchased with the software. Outside of termination, these licenses are available after a single payment. Examples of perpetual licenses on the download site are listed below:
Requesting New Software
If there are software applications that you need, but which are not available through software.lbl.gov, you may have to purchase it directly by submitting a requisition through the Lab's procurement office.
If there is a wider need for an application, IT may be able to make it available for purchase on software.lbl.gov. To request an application to be added, please contact the licensing team at licenses@lbl.gov.
Acceptable Use of Software
Software licensed to LBNL is for the Lab's business purposes.   Incidental use of such software is permitted to the extent allowed under the Acceptable Use of Information Technology policy.
Some site-licensed software is licensed for home use and can be installed on any machine used for Lab business (e.g. Mathematica, Sophos A/V Home Use).
There are circumstances where LBNL licensed software is purchased for installation on a non-LBNL owned machine. In such cases, line management should approve the installation and the license must be uninstalled and returned when the relationship to LBNL or the business need end.