Thinking of purchasing a new laptop? Perhaps your current device has seen better days or you're struggling to decide between the many available options on the market. Some divisions may require extra laptops on hand for visitors, affiliates, contingent workers, or forgetful staff. Whatever the use case may be, Berkeley Lab IT is here to help explain the benefits of selecting a Chromebook for your next workstation.
Chromebooks are laptops manufactured by various vendors running Chrome OS, a Linux-based operating system made by Google. Chrome OS is designed to be easy for beginners to learn but powerful enough for advanced users to work on everyday. Chromebooks utilize the Google Chrome web browser and recognizable Google Workspace applications (Gmail, Drive, Docs, Sheets) as the principal user interface.
Perfect for education and business
Chromebooks have steadily grown in popularity since their release in 2011, but the impact of the pandemic on academia caused an unprecedented surge in sales from 2020-2021. The rapid environmental changes made distance learning a mandatory requirement for both students and educators. School administrations scrambled to provide remote learning technology and tools to their districts. As an emergency response to COVID-19, UC Berkeley funded technology access and equity programs in order to quickly send free laptops and Wi-Fi hotspots to students.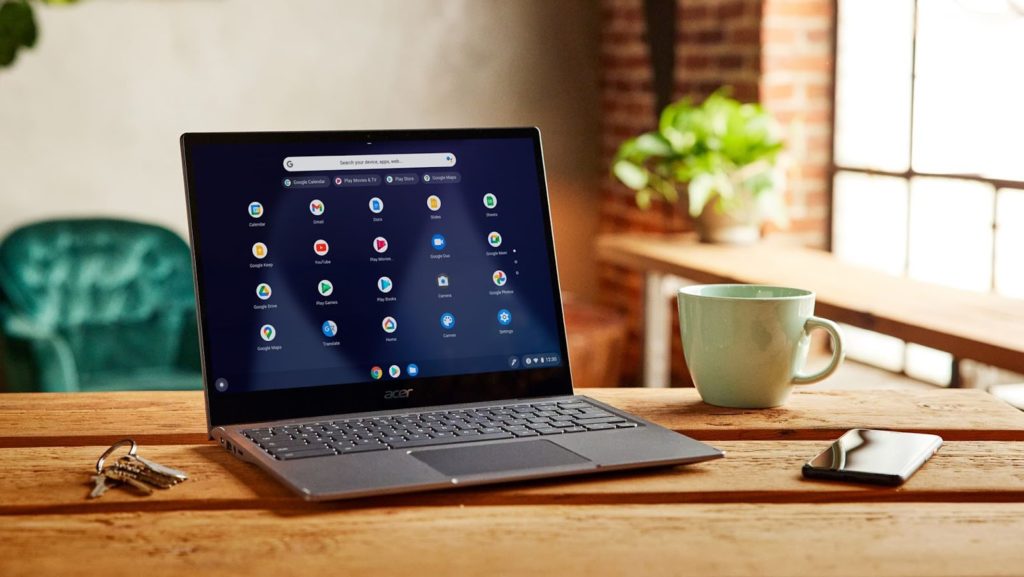 Now that Chromebooks have become mainstream and familiar, Berkeley Lab staff may be wondering if these devices are suitable for everyday business use. Chrome OS and the suite of Google Workspace apps are inherently focused on collaboration, connection, real-time editing, and sharing of real-time ideas, comments, and files. For most staff, day-to-day productivity tasks like word processing, editing spreadsheets, and accessing web-based applications and sites are easily enabled by Chromebooks. Capabilities include:
Google is constantly enhancing functionality for their products and automated updates makes it easy for the busy user to keep up. Check out What's New in Chrome OS to learn more about the latest Chromebook updates.
Stretching dollars for science
IT's User Support group is always looking for the most cost-effective solutions for users at Berkeley Lab. Chromebooks average price ranges from $200-$500 in comparison to Windows or Mac OS units which regularly sell at $1,100+. Low budget Chromebooks offer an affordable, relatively low-cost solution for almost every common business need. Higher-end Chrome OS devices include touchscreens, pens, detachable tablets, more processing power, and premium displays.
Made with academics in mind, the ease and reliability of working with Chromebooks can replace the need for more expensive, high-maintenance hardware. The following specs may hold particular appeal for scientific researchers and frequent travelers:
Durable construction with some models meeting military-grade standards
Long battery life lasting up to 10-12 hours
Light carry weight ranging from 2-3 lbs
Small form size with screens from 10.1" to 15"
High compatibility with various file formats and plug and play devices
Onsite at the Lab, many staff have adopted hybrid work modes, including "hoteling" or "hot-desking" where multiple workers share an office or space during different periods of time. Instead of purchasing costly and bulky desktop units and peripherals for each employee, such arrangements encourage the flexible use of mobile personal laptops which make it easy for workers to temporarily connect to stationary monitors and change locations.
Chrome OS also comes in other form factors, such as Chromeboxes, now implemented as shared systems utilized by Berkeley Lab utility workers, including custodians, gardeners, electricians, and plumbers. Tammy Campbell, IT Support Service lead, notes, "All their work is web-based so having a shared Chromebook is ideal for these situations. We also use Chromebits/Chromeboxes for kiosk displays throughout the Lab as well."
Robust security and stability
Security concerns like social engineered phishing pose a constant and ongoing threat to highly visible organizations like Berkeley Lab. The Cyber Security group recommends keeping operating systems, devices, and applications updated as the #1 way to help protect the Lab (see One Minute for IT). Chrome OS devices alleviate security concerns by providing multiple layers of built-in protection, including:
Automatically managed updates. Chromebooks are always running the latest and most secure software components and OS.
Sandboxing. Each web page and application runs in a restricted environment referred to as a "sandbox." Any infections or malware are contained and will not spread to other tabs, apps, or files.
Verified boot. Chromebook will automatically detect system tampering or corruption with every start up and repair itself.
Data encryption. All important data is stored safely in the cloud and any temporary data like cookies or browser cache files are encrypted using tamper-resistant hardware.
Recovery mode. In case of any emergencies, users can easily return to a known working version of the OS and safely restore files as needed.
To address any concerns of lost or stolen laptops and data, Berkeley Lab IT can remotely wipe or completely disable Chrome OS devices until recovered.
Contact IT for assistance
Berkeley Lab IT strongly recommends that all users consider using ChromeOS devices, which offer a modern and safe computing experience.
Visit the IT FAQ to Request a Computer and view Chrome OS Information.
For all other questions, the Help Desk team provides technical computer support for Berkeley Lab staff and affiliates and can be reached via:
Chat at go.lbl.gov/itchat. Help Desk business hours are Monday – Friday, 8:00AM to 5:00PM (Pacific).
Send an email to help@lbl.gov to generate a ticket.
Submit a ticket through the Help Desk portal at help.lbl.gov.