Audio Visual (AV) Services provides support for public conference rooms at Berkeley Lab. "Public" conference rooms are open to anyone at the Lab and can be reserved via Google Calendar. Learn how to reserve a room and check out active spaces maintained by IT.
Find a current overview of active Zoom Rooms and public spaces at go.lbl.gov/cr.
Reserve a Room
Public conference rooms and Zoom Rooms can be booked through Google Calendar using the Rooms tab. Try using the Zoom Scheduler Extension for Chrome to access conference room information.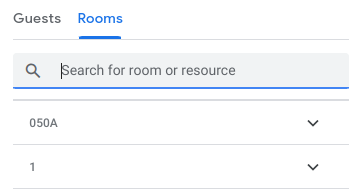 Auditoriums
Each of the two Auditoriums (50, 66) located at Berkeley Lab are equipped with the following:
LCD projector
Sound system with wireless hand held microphones
Zoom Room capability or existing podium PC
Wireless screen sharing for laptops (no adapters needed)
Supported by IT
The following conference rooms are supported and maintained by the IT Division. Click on the room links to view more details (Berkeley Lab login required).